What to Expect When You Visit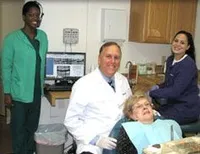 Our staff has one goal: To make your visit to the office as easy, convenient and pleasant as is humanly possible.
When you first come in, you will be greeted by our Front Office Staff. Our wonderful associates on the front end will be your first resource for questions about appointment scheduling, insurance, fees and dental procedures, including what sort of preparation you need and general recovery inquiries and guidelines. Our people in the front office are friendly, knowledgeable, and eager to help you by making your experience in our office an extremely positive one. If they don't know an answer to one of your questions, they'll know where to go to get the answer.